Lean back and enjoy!
UE has been a client of JungleFish for over five years. We have seen the company grow enormously successful and we are proud to be a part of it. This time UE prepared to surprise the market with a new addition to their already rich product portfolio – a line of reclining chairs.
How to stand out in a very crowded B2B market?
The main business of UE is focused on B2B sector. Especially in the Chinese market, companies with a business-to-business model tend to neglect branding and visual communication, instead concentrating on bulk sales. This approach worked well in the past, but taking in consideration the growing competition, quality demands, and customer expectations, it is no longer sustainable. Forward thinking businesses, such as UE, are well aware of this development and are actively using design as a business tool.
People are People
UE reclining chairs are made for consumers with a good sense of style and quality. But how to reach those customers when your main focus is B2B, where, as many might think, focus is shifted away from the branding? The answer is simple: people are still the main target whether you deal with B2B or with the end consumer. People are the ones making the final decision. And this decision is highly affected by the company's appearance: it is brand identity. Colors, logotype, catalogs, website, exhibition booth design – every element talks for the brand. If it looks consistent, relevant, thought through, it has power to attract and instill trust. If the brand appears inconsistent, sketchy and rushed it might easily drive away, doubting not only the product but the whole company. This works in B2B just as well as in B2C sector.
Solution
To support the quality of the chairs we have started with developing suitable names. Knowing that the product is also going to travel abroad we had to keep in mind the pronunciation challenges. Selected names of models – Maya, Alabama, Lamar fit perfectly with the overall concept giving the instant feeling of comfort, style and quality. Of course, verbal aspect of the brand must go in line with the visual appearance.
We have developed a series of slick and stylish brochures for each model, keeping the overall tonality but highlighting the main outstanding features.
The new product line fully armed with stylish names, set of new brochures, catalogues and modern websites has been a sensation on the international trade show, bringing the company not only desired sales, but, most importantly, respect, trust and international recognition.
Services we provided
Verbal branding (naming)
Product brochure design
Website design & development
A review of our past work with UE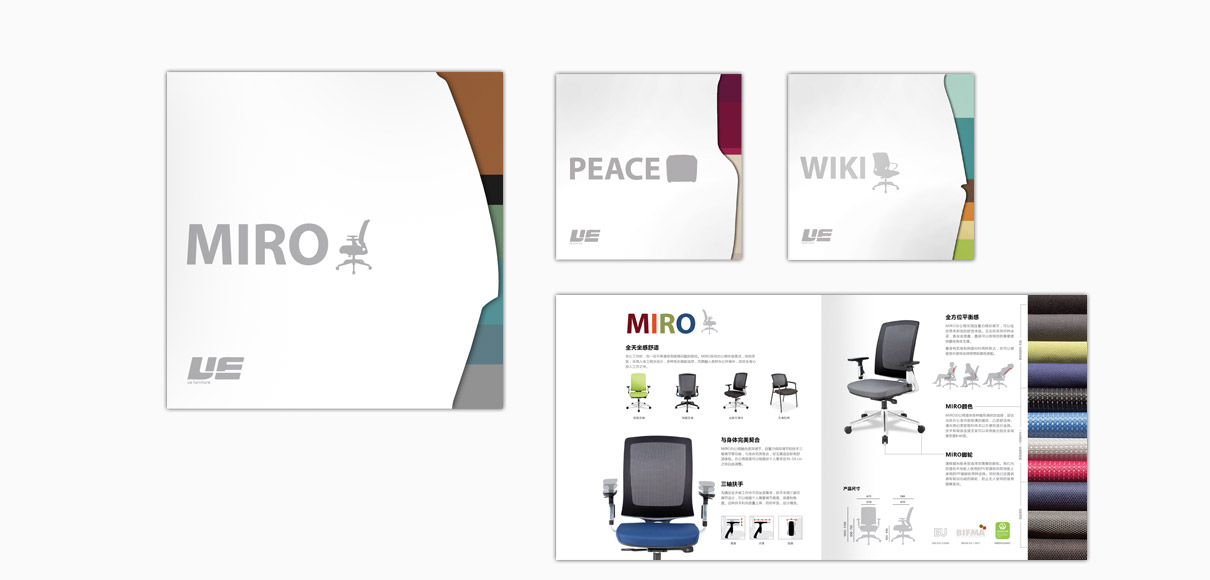 Office Chairs: At the start of our collaboration we developed a distinctive system of office chair brochures (initially only for export sales). The cover is die-cut in the shape of the back rest with the fabric color options openly visible.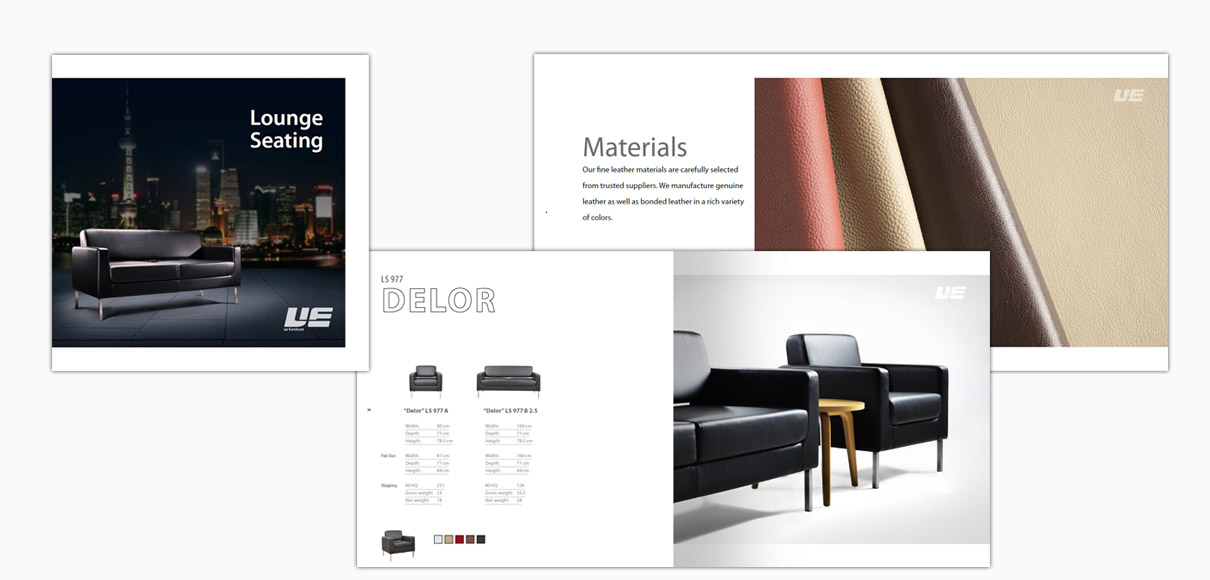 Lounge Series: Before we developed this brochure with professional photography, UE used a large poster to introduce their 20+ lounge chair products. Design and production of this new brochure cost much more than any previously produced B2B brochure, but it paid off: In a phase of cooling market, UE managed a 30% increase in this business segment.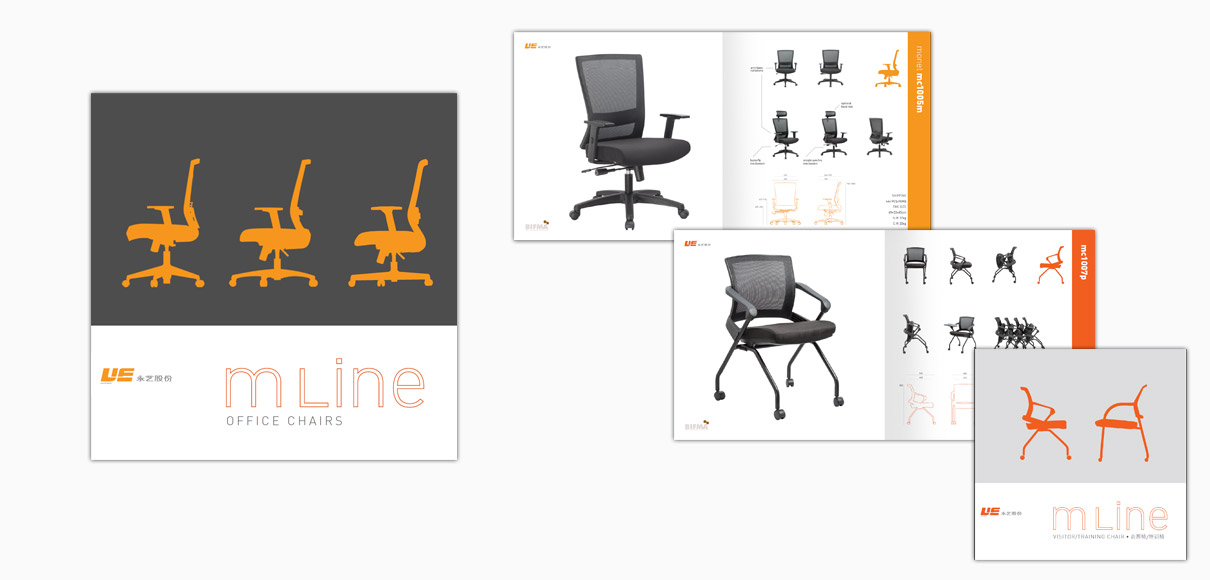 Positioning: The entry level of products are introduced with a clean but reduced brochure. No environment photography and to-the-point communication convey the positioning of this product line.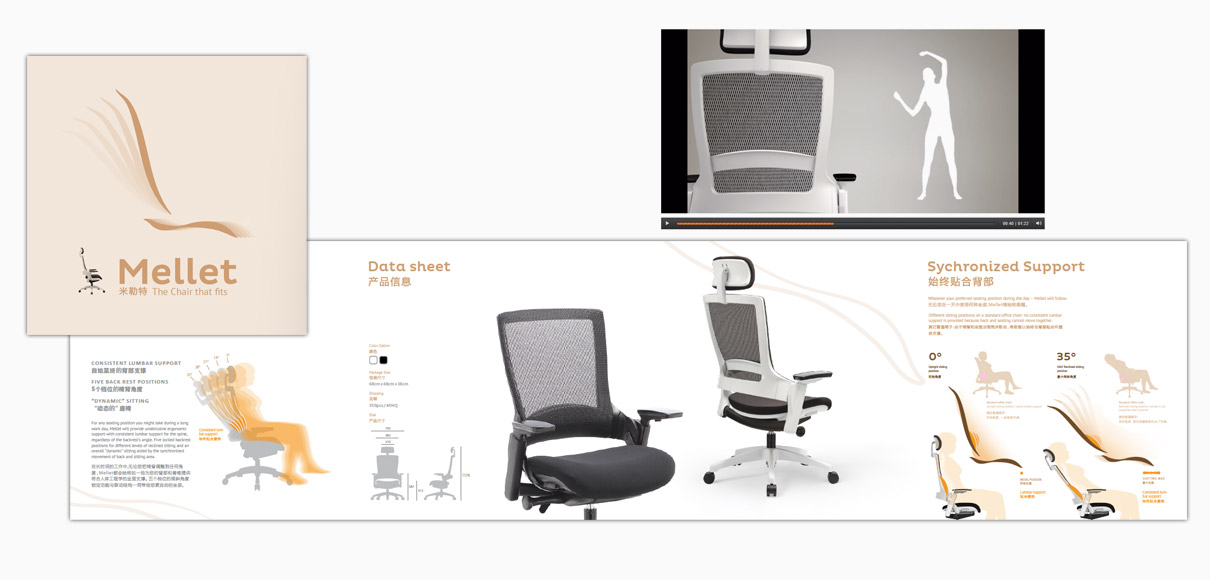 High performance: For the top model, Mellet, we created a large fold-out brochure as well as a video animation for the trade show.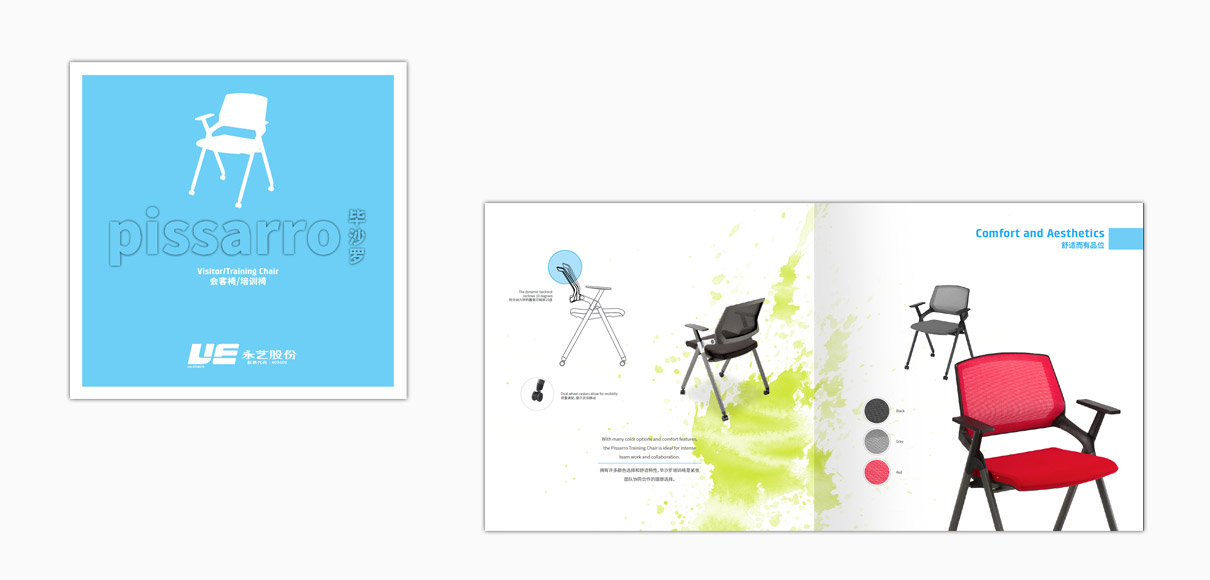 Design focus: This training chair shows the design aspirations of UE and the brochure also breaks the grid highlighting colors and shapes.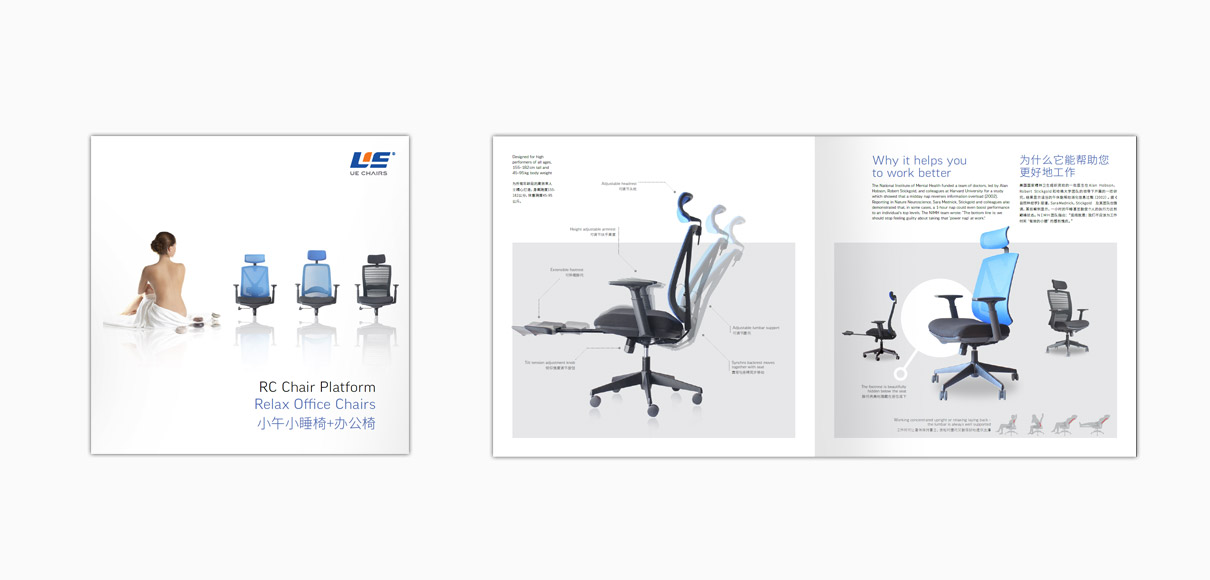 Take a nap: This platform of chairs comes with an expandable footrest which is an attractive feature, especially for the Chinese market with its healthy lunch nap culture.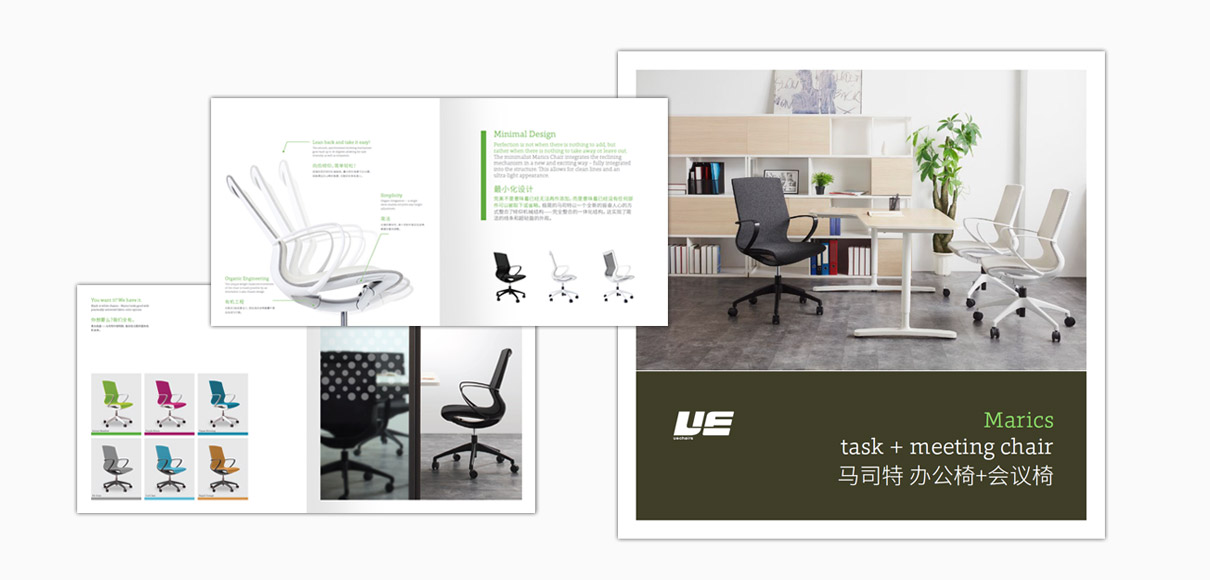 Clean Lines: For this beautiful task and meeting chair several environment scenarios were set-up that show its versatile application.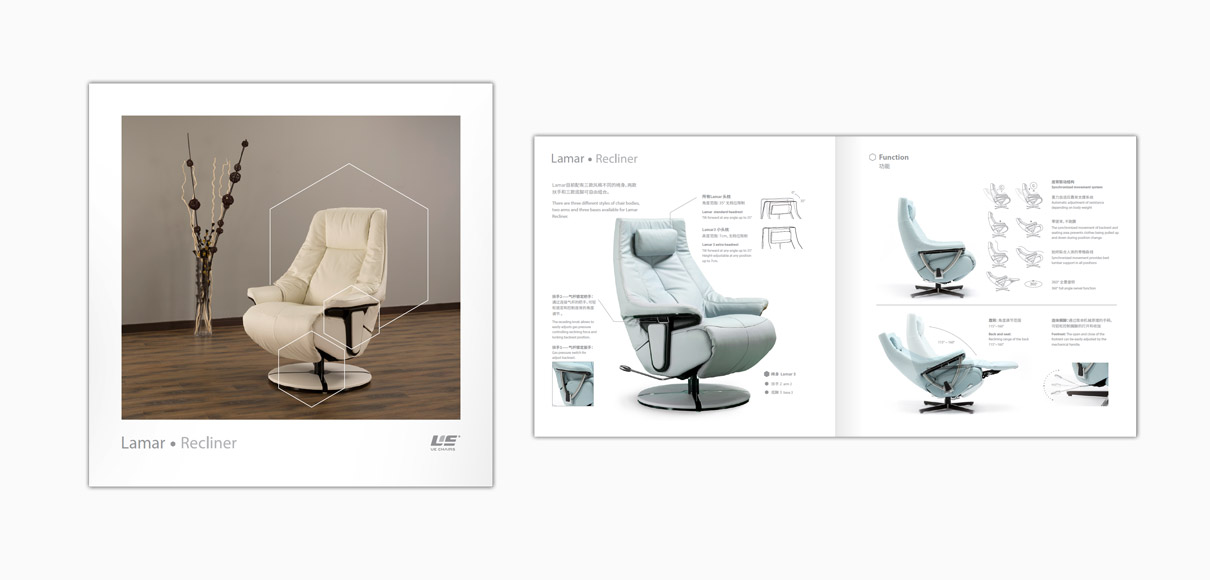 Recliner System: This year's innovation: the Lamar modular reclining chair. With a selection of back rest designs, arm rests and different base designs many versions of Lamar are possible.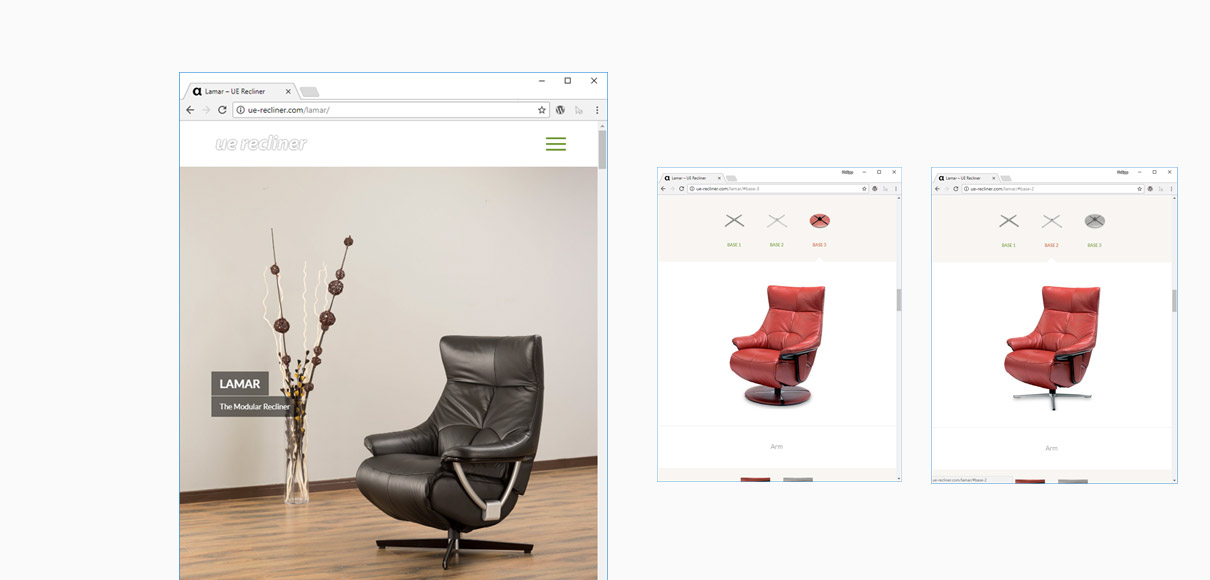 Online: Together with the brochures we also created product websites. The growing recliner portfolio can be experienced online under www.ue-recliner.com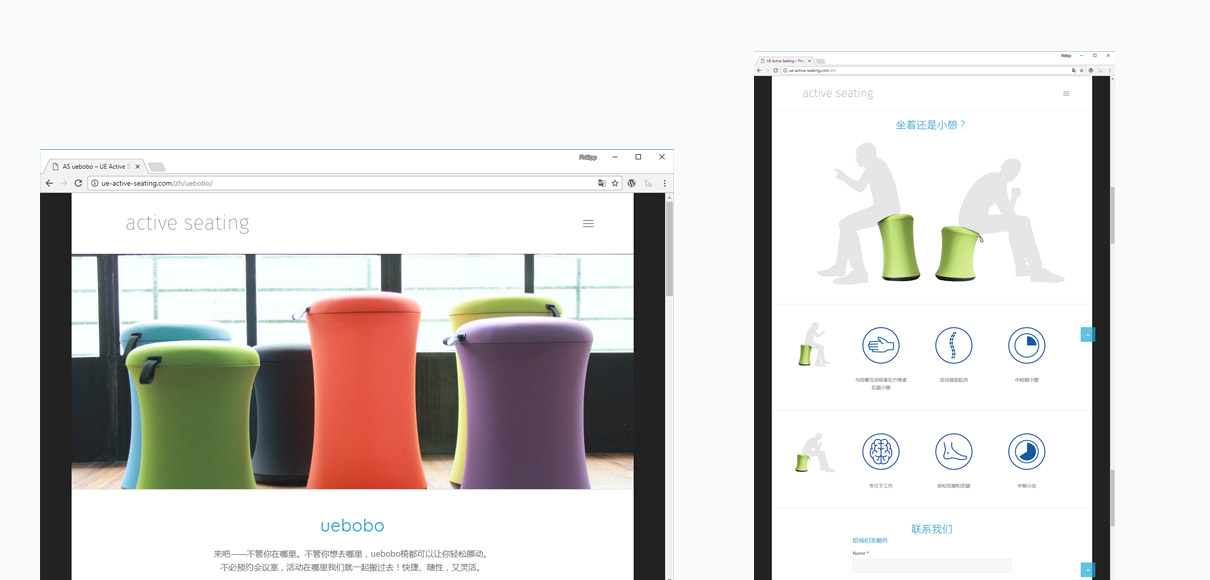 New product category: This year also brought an entire new product category for which we also created brochures and website: perching chairs